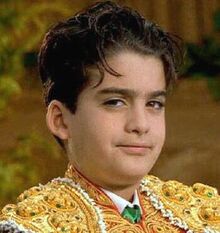 Kristian De La Osa (born 20 July 1986) is an American actor known for playing the role of Pepito in the 1998 film Madeline.
Biography
Born and raised in Miami to a Cuban-born father and American-born mother, Kristian first appeared in commercials when he was four years old after studying music and dance at a young age. De La Osa's first film is The Pest (1997). Besides appearing in Aguamarina, Madeline and Flight of Fancy, he also played supporting roles in various telenovelas.
Ad blocker interference detected!
Wikia is a free-to-use site that makes money from advertising. We have a modified experience for viewers using ad blockers

Wikia is not accessible if you've made further modifications. Remove the custom ad blocker rule(s) and the page will load as expected.