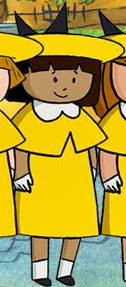 Lulu is one of the twelve little girls. In season 4 she replaced Nicole's role of being Madeline's best friend. She also seems to be close to Ellie.
Appearance
Edit
Originally, Lulu resembled Nicole until she was later given tan skin and dark brown hair with a red pigment. Later in the series, her hair became dark brown-black, while her skin gained a pale brown hue. Like the others she has black eyes and wore a blue dress with white accent and a yellow hair ribbon, or a yellow dress with white gloves, collar, and socks, worn with a yellow hat that has a black ribbon on it to match her shoes.
Personality
Edit
Lulu is very gentle and full of curiousity. She is sensitive and often cries at things, but she has a large heart and is very friendly. 
In Madeline on Stage she got the role of the Dove.
In Madeline and the forty thieves she got the singing role about earmuffs.
Ad blocker interference detected!
Wikia is a free-to-use site that makes money from advertising. We have a modified experience for viewers using ad blockers

Wikia is not accessible if you've made further modifications. Remove the custom ad blocker rule(s) and the page will load as expected.