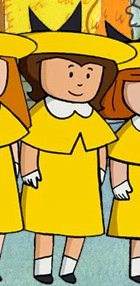 Monique is another girl out of the 12 girls with Long brown hair in a flip (hair appears to be pink until season 3). She was the one who caused the trouble in the episode "Madeline and the new Girl" because of her "wild" imagination. She actually kept a comic book which is unknown to Miss Clavel, also in the same episode it is shown that she can be a bit of a  paranoid at times. In Madeline on Stage, she and Sylvie was the ones who caused all the boycottings. In Madeline and The Can Can Cliques she was in the Homemade Hat Club along with Lulu Nona Chloe Ellie and Danielle
Ad blocker interference detected!
Wikia is a free-to-use site that makes money from advertising. We have a modified experience for viewers using ad blockers

Wikia is not accessible if you've made further modifications. Remove the custom ad blocker rule(s) and the page will load as expected.