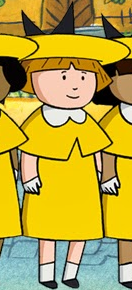 Nicole is one of the twelve little girls. She is close to Madeline, as well as Genevieve, Chloe, and Danielle.
Appearance
Edit
Nicole has black eyes and fair skin, with short dirty-blonde hair ending beneath her ears. Like the others, she wears a blue dress with white accent and a yellow hair ribbon, or a yellow dress with white gloves, collar, and socks, worn with a yellow hat that has a black ribbon on it to match her shoes.
Personality
Edit
She is known as a "late bloomer" due to struggling with reading and her studies. She is very sweet and innocent- but as a result can be naive at times.
She bears a lot of similarities with Lulu in terms of personality and attitude.
Ad blocker interference detected!
Wikia is a free-to-use site that makes money from advertising. We have a modified experience for viewers using ad blockers

Wikia is not accessible if you've made further modifications. Remove the custom ad blocker rule(s) and the page will load as expected.