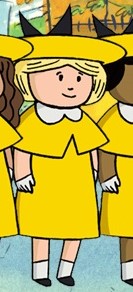 Yvette is one of the twelve little girls.
Appearance
Edit
Yvette is a girl but with light skin and blonde (some times turning orange) hair. She has black eyes and fair skin. Like the others, she wears a blue dress with white accent and a yellow hair ribbon, or a yellow dress with white gloves, collar, and socks, worn with a yellow hat that has a black ribbon on it to match her shoes.
Personality
Edit
Yvette is considered to be snooty and self-centered. She enjoys showing off to the point of and is rude to the other girls when they got tired of it and encouraging them to act the same. She believes herself to be beautiful and feels that nothing could ruin that- even after the girls put red paint into her hair brush. 
She can be vain and bossy at times and enjoys spending her time simply admiring herself in the mirror. She adores fashion as well, is one of the only girls to actually admire Sugar Dimples before the others get to know her.
Yvette is the only girl with blonde hair.
Yvette s best friend is Chloe
Yvette is smiller to Lucy Van Pelt becuase they are mean and bossy and wear blue
Yvette s favroutie colour is blue too
She is the oldest of the girls
Yvette was also voiced by chantal strand who also voices danielle giving her an american accent
Yvette sounds like a french mekena from care bears adventures in care a lot
Yvette is so bossy and mean
Ad blocker interference detected!
Wikia is a free-to-use site that makes money from advertising. We have a modified experience for viewers using ad blockers

Wikia is not accessible if you've made further modifications. Remove the custom ad blocker rule(s) and the page will load as expected.